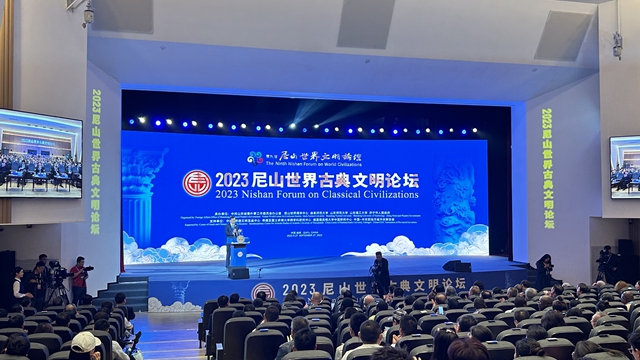 The Nishan Forum on Classical Civilizations is held at Qufu Normal University from Sept 26 to 28.
The Nishan Forum on Classical Civilizations was held at Qufu Normal University in Qufu, East China's Shandong province from Sept 26 to 28.
This forum is an important sub-event under the framework of the ninth Nishan Forum on World Civilizations, an international cultural forum that is in response to the United Nations' initiative on conducting dialogues among different world civilizations and named after Nishan, the birthplace of Confucius.
Jointly organized by the Office of the Foreign Affairs Working Committee of the Communist Party of China Shandong Provincial Committee, the Nishan Confucian Studies Center, Qufu Normal University, Shandong Normal University, Shandong University of Technology and the Jining Municipal People's Government, the forum consisted of a main forum and four parallel sessions.
During the forum, the Nishan Classical Civilization Research Institute was launched.
The forum focused on high-level, international academic exchanges, inviting top experts and scholars with significant influence in the fields of classical studies, Chinese and Western philosophy and Sinology. Renowned scholars from Greece, Egypt, India, Italy, Nepal, South Korea, Japan, Malaysia and other countries submitted their academic papers.
During the forum, a series of core concepts, major propositions and important theories related to classical civilizations were put forward. It was not only an academic feast of ideas but also reflected the vibrant exchanges between Chinese and foreign cultures.
The theme of this forum spanned from classical to contemporary civilizations, from history to philosophy, and from Chinese civilization to world civilizations, showcasing distinct characteristics of interlingual, interdisciplinary and intercultural exchanges.
The forum not only promoted the study of global classical civilizations, but also facilitated international academic exchanges in the field of humanities. It can be described as a remarkable achievement with fruitful results.
It also provided a platform for scholars to share insights, deepen understanding and promote dialogue between different civilizations. It is expected to have a significant and long-lasting impact on the development of classical studies and international cultural exchanges.
Disclaimer: This article is reproduced from other media. The purpose of reprinting is to convey more information. It does not mean that this website agrees with its views and is responsible for its authenticity, and does not bear any legal responsibility. All resources on this site are collected on the Internet. The purpose of sharing is for everyone's learning and reference only. If there is copyright or intellectual property infringement, please leave us a message.