Explore the Home of Southern Confucianism in Quzhou, A Journey into the Charms of Confucianism
--Multinational Participants in the "HELLO Quzhou" Field Survey
From September 8th to 10th, the "HELLO Quzhou" Field Survey, organized by the Quzhou Bureau of Culture, Radio, Television, and Tourism in Zhejiang, China, welcomed over 20 individuals and influencers from countries such as the United States, Russia, South Korea, Egypt, and Ethiopia. These participants embarked on a two-pronged exploration of Quzhou, renowned as the "Home of Southern Confucianism," to explore the charms of Confucianism.
With a history spanning over 1800 years, Quzhou has earned accolades as the "Four Provinces Intersection, Hub of Five Roads, Southeastern Celestial Capital, and the home of Southern Confucianism." In recent years, Quzhou has delved deeply into its cultural and tourism resources, with Confucianism permeating every corner.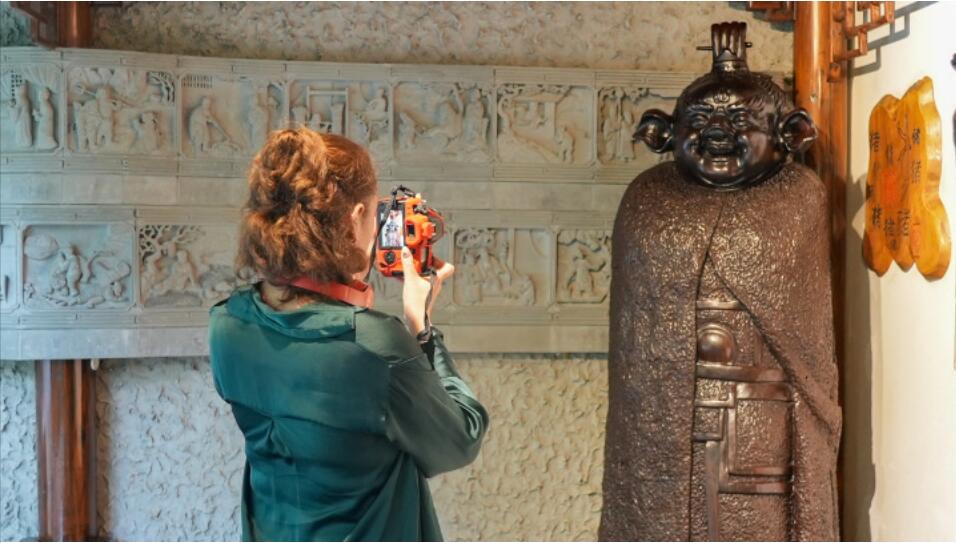 Art serves as the vessel of culture. During their field survey, participants marveled at the grand root-carving artworks in the Palace Buddha Kingdom, were captivated by the landscapes of the "Go Chess Sage Land" on Lanke Mountain, and were awed by the grand rehearsals at the Confucianism Southern Ancestral Temple and the Chinese Confucianism Institute. They immersed themselves in immersive performances like "Dream-Immersed Shuitingmen," feeling as if they had traveled through time to the Southern Song Dynasty and experienced the culture of that era firsthand.
Cuisine embodies cultural heritage. During their journey, they delved into the craftsmanship of making Shaoyongfeng Sesame Cakes, tasted "Clearwater Fish," and genuinely experienced the ancient blue brick and green tile architecture of the Nianbadu Town and the Song Dynasty tea ceremony at the harmonious courtyards. They fully indulged in the Southern Confucianism Family Banquet, which employs cooking techniques such as steaming, roasting, stewing, brewing, and stir-frying, offering dishes with unique "color, shape, fragrance, and flavor," creating a delightful experience for their palates.
Scenic areas showcase cultural manifestations. During their field survey, they carefully appreciated the stone carvings in the Longyou Grottoes along 95 Alliance Avenue. They explored rest stops, garden squares, and other "visually appealing, enjoyable, and intriguing" elements. They embarked on the fantastic journey of popular check-in points, car camping sites, and homestay clusters, immersing themselves in the tranquility of small bridges overflowing waters and the grandeur of cliffside landscapes.
Throughout the field survey, participants could not contain their exclamations of awe and admiration, constantly capturing the breathtaking moments with their smartphones.
It is understood that during the Hangzhou Asian Games, Quzhou offered free access to 14 core scenic areas for athletes, staff, and spectators. As the Asian Games draw nearer, Quzhou, known as the "Model City of Virtue," is set to welcome even more international visitors.
Company:Zhejiang Daily
Contact Person:Huang Hong
Email:branding@8531.cn
Website:www.8531.cn
Telephone:+8613750822306
City:Hangzhou,Zhejiang,China
Disclaimer: This article is reproduced from other media. The purpose of reprinting is to convey more information. It does not mean that this website agrees with its views and is responsible for its authenticity, and does not bear any legal responsibility. All resources on this site are collected on the Internet. The purpose of sharing is for everyone's learning and reference only. If there is copyright or intellectual property infringement, please leave us a message.